DEDICATED TO THE REPRESENTATION AND PROTECTION OF PHYSICIANS
and their families and practices for over 33 years in Clearwater, Florida.
We are there in times of need
Specialists that we commonly work with include the following:
Medicaid and Medicare billing and controversy lawyers.
Malpractice defense lawyers
Billing and medical business consultants
Patent, copyright and trademark lawyers
Divorce lawyers
CPAs who specialize in forensics and testimony
Securities lawyers who represent individual investments or who wish to set up arrangements for investors.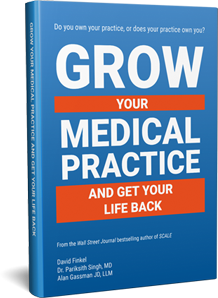 Do You Own Your Practice, or Does Your Practice Own You?
If you've ever dreamed of growing your practice, but were afraid the lifestyle costs to your time and family would be too high, then this book will transform how you approach running your medical practice.
David Finkel  |  Dr. Pariksith Singh, MD  |  Alan Gassman, JD, LLM
THE VIDEO LIBRARY DEDICATED TO PHYSICIAN REPRESENTATION
Search our library of videos created specifically dedicated to physician representation